Australia's largest community tree-planting event is one week away
Date: 26-Jul-09
Author: Michelle Cook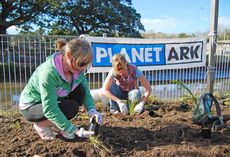 It's almost time to grab your gardening gear and get growing!
On Sunday 2 August you too can join the hundreds of thousands of volunteers who each year roll up their sleeves and plant native trees and shrubs on National Tree Day.
School students will get the opportunity to play in the dirt this Friday 31 July.
Find your nearest public tree-planting site here or call the National Tree Day hotline on 1300 88 5000