Trees For Life South Australia Are Offering Planting Kits
Date: 18-Jul-14
Author: Damian Dabrowski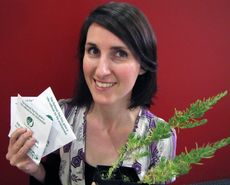 South Australian environmental organisation, Trees For Life (TFL), is asking residents to get down to one of 116 Foodland stores and buy a National Tree Day planting kits for just $1.
The kits contain seeds of the easy-to-grow the Ruby Saltbush plant, step-by-step instructions and jiffy pots. The Ruby Saltbush (Enchylaena tomentosa) species was chosen, as it is suitable for most parts of the state. It is a shrubby perennial growing up to 1 metre high, with succulent grey foliage and berry-like fruit.
There are 20,000 packs available and all the proceeds from their sale goes to on-the-ground work by TFL.
Trees For Life is a huge contributor to Planet Ark's National Tree Day. Each year the South Australian organisation contributes hundreds of thousands of trees to the total number planted. This new initiative will help grow this already impressive contribution.
For more information visit: http://www.treesforlife.org.au07/2014/get-your-trees-life-national-tree-day-kit