Get on board for National Tree Day!
Date: 06-Feb-12
Author: Lucy Band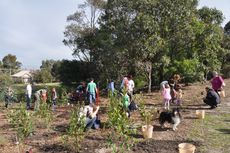 Planet Ark is encouraging interested volunteers to register and run local tree planting sites or other eco activities. National Tree Day is a fantastic opportunity to do something for your local environment and community and teach future generations how to care for and protect their native environment.
National Tree Day site coordinators are required to organise and supervise their registered tree planting site. Planet Ark provides support to all registered site coordinators through its National Tree Day Hotline and website, which includes an online RSVP system for volunteers, downloadable resources and a step-by-step guide, plus tools to help you promote your tree planting event.
This year, National Tree Day will take place on Sunday 29 July 2012, with Schools Tree Day scheduled for Friday 27 July.
Want to know what it's like to be first time coordinator?
Click here to read some great case studies from people just like you, who coordinated a Tree Day activity for the first in 2011.
Ready to Register

Click here to find out about registering as a National Tree Day Coordinator or call the National Tree Day Hotline on 1300 88 5000.