Colonial First State Supports National Tree Day
Date: 04-Aug-11
Author: Lucy Band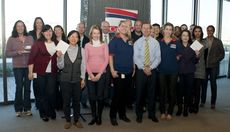 On Friday July 29 Planet Ark supporter Colonial First State held a breakfast and raffle in the name of National Tree Day. The session was hosted by Colonial First State CEO, Brian Bissaker, who announced the winners of the raffle, which raised an amazing $960 for National Tree Day!

Businesses and National Tree Day
National Tree Day is one of the few simple ways for people to get involved in positive environmental and community based activities. It can be a great team building event for staff and each year we see thousands of committed groups returning to participate in Tree Day - a testament to the genuine appeal of the day. It acts as an entry point for greater community involvement and environmental awareness.
If businesses want to participate but can't get out planting on the day, then there are lots of other great ways to support this event. Click here to find out how your business could get involved in 2012.
More Information
Colonial First State is a proud partner of Planet Ark, click here for more details.
To find out how Colonial First State can help you generate wealth visit wealthgeneration.com.au.