Welcome to the National Tree Day Media Centre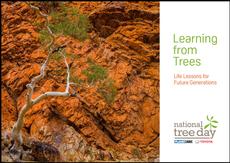 Please direct all media inquiries to:
Planet Ark's PR & Media Team
P: 02 8484 7205
E: pr@planetark.org
Mark your calendars for 2018
Schools Tree Day is on Friday, 27th July 2018
National Tree Day is on Sunday, 29th July 2018
2017 Research
The latest report from Planet Ark examines how prepared the next generation is to tackle the biggest future challenges facing humanity. These challenges have been defined by the United Nations and include food security, refugees, access to clean water, population increase, and climate change the most concerning overall.
The report, Learning from Trees: Life Lessons for Future Generations, which was sponsored by Toyota Australia and released ahead of National Tree Day 2017, asked 200 Australian teachers to identify the crucial skills students need most to tackle global challenges, such as climate change, in the future.
Downloads:
Full report (7.5MB pdf)
Key findings (1.5MB pdf)
Media release (436kb pdf)
National Tree Day Media Releases
A collection of images related to the National Tree Day campaign
Download the National Tree Day logo and information on its use
Radio CSAs, interviews, podcasts
Videos & Community Service Announcements about National Tree Day