Steve Parish talks about National Tree Day
Learning from Trees - Life Lessons for Future Generations
The Learning from Trees: Life Lessons for Future Generations report, commissioned by Planet Ark and sponsored by Toyota Australia, was released in the lead up to National Tree Day 2017. The report examines how prepared the next generation is to tackle the biggest global challenges facing humanity. These challenges have been defined by the United Nations, with climate change the most concerning challenge overall.
The report presents the results of a snapshot survey of 200 Australian teachers (100 primary, 100 secondary) and what they identified as the most crucial skills students need for the future. Teachers were asked to rank the following skills and attributes in order of importance: STEM (science, technology, engineering and mathematics); problem solving and critical thinking; creativity and innovation; compassion; 'grit' (determination, resilience and perseverance); emotional intelligence and trade skills.The report also includes research from Australia and overseas that demonstrates how the crucial skills identified can be developed through outdoor learning and nature time.
Report Findings
60% of teachers ranked critical thinking and problem solving, grit and resilience and emotional intelligence as the most important skills for the future, These same skills were identified as students' weakest, with grit being the weakest overall
Only 4% of surveyed teachers considered STEM skills in the top three most needed skills
Less than 34% of Australian teachers taught outdoors for 15 minutes or more in a 10-week Term (excluding lunch, recess and physical education)
Only 4% of teachers surveyed considered outdoor learning as most important for fostering inspiration, creativity and problem solving
Research shows outdoor learning helps grow problem-solving, grit, emotional intelligence and key educational outcomes, both during and outside of school hours
Nature ignites passion, inspiration, creativity and purpose and plays an important role in the cognitive, emotional and physical development of children
Outdoor learning was introduced as part of the Australian Curriculum in 2015
About the Video
The video features conversations with Steve Parish OAM, National Tree Day Ambassador, naturalist, conservationist, award-winning nature photographer and publisher. For over 55 years, Steve Parish has been photographing Australia's landscape driven to 'show and tell' the wonders of nature through photography and inspire others to fight for the protection of our unique wild places and creatures. Over his career, he has taken over 500,000 photographs of Australian landscapes, plants, animal and trees, many of which personify qualities intrinsic to the human spirit. Steve sees trees as teachers who show us that we need to continually grow, adapt and transform with our environment.
Parish claims that trees are the planetary icon for nature and that it never ceases to amaze him of the parallels and life lessons we can learn from trees like the tenacity of a windswept tree growing on a cliff top, the resilience and durability of a tree like the Moreton Bay fig with its enormous prop root system or the determination of a tiny seed that grows into a giant ghost gum soaring amongst the tallest trees in the world. Nature is a powerful teacher.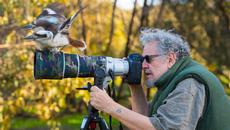 ---
Previous Research
Adding Trees builds upon previous research commissioned by Planet Ark that highlighted the value and importance of contact with nature for our health, wellbeing and development.
2016 - Adding Trees - A Prescription for Health, Happiness and Fulfilment
2015 - Needing Trees: The Nature of Happiness
2014 - Valuing Trees: What is Nature Worth?