About National Tree Day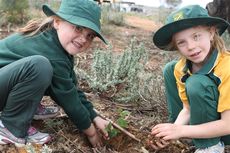 Planet Ark's National Tree Day and Schools Tree Day provide all Australians with an opportunity to do something positive for the environment and reconnect with nature, thanks to support from our longstanding major sponsor Toyota Australia.
Planet Ark works with councils, schools and community groups to help hundreds of thousands of Australians plant over 1 million native trees, shrubs and grasses at more than 4000 Tree Day events.
Tree Day Dates:

Planet Ark's National Tree Day occurs on the last weekend of July every year - this is the optimal planting time for the majority of Australians towns. However, we're very aware that this date doesn't suit some areas - and for that reason, you can find a date that suits you. As Planet Ark believes, "every day is Tree Day".
This years dates:
National Tree Day will be on Sunday 27th July & Schools Tree Day Friday 25th July 2014
*Next Year the dates will be Friday 24th July 2015 (Schools Tree Day) and Sunday 26th July 2015 (National Tree Day).
Read some inspiring stories showcasing a variety of organisations and their individual approaches to successful Tree Day events.
National Tree Day and Schools Tree Day combine to make Australia's biggest community nature care event.
National Tree Day aims to inspire, educate and recruit Australians to actively care for our unique land and create future generations of committed environmental custodians.
Planet Ark's research demonstrates the benefits of interaction with nature for children's health, wellbeing and development. Find out how...
This committee offers expert environmental and educational advice to help develop the Tree Day campaign.
The continued support of National Tree Day sponsor Toyota has ensured the ongoing success of National Tree Day.
Organisations and companies who provide ongoing support for Tree Day
Planet Ark reached a campaign milestone by planting the 20-millionth seedling since the campaign began in 1996. Check out what else we achieved together...