For little gardeners with big green thumbs!
Seedsticks Class Planting Packs help early educators grow something precious for Schools Tree Day.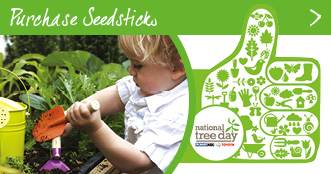 Ideal for PreK, Kindie and young learners
Easy to use and grow
1 Class Pack costs: $29.99 (GST and postage costs extra)
1 Class Pack includes: 30 individual packs
Each pack includes 5 Seedsticks to plant
It's never been easier
Seedsticks are ideal for little gardeners with big green thumbs. Young kids love growing seeds but it's often challenging 'pinching' tiny seeds with little fingers without losing the seeds. Planting with Seedsticks is easy and fun for PreK and young learners - for more information click here. There are a range of native plants, vegies and herbs to choose - place your order now.
Seedsticks have a downloadable pdf with more information about how they work.
Schools can also get multiple packs to use as a green fundraiser for Schools Tree Day. Contact Seedsticks for more information.