A Nature Playground In Our Concrete Jungle
Date: 08-Jul-15
Author: Emily Donnelly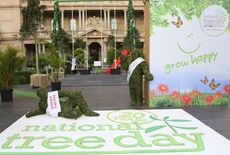 Last Thursday, Planet Ark and Toyota hosted the Grow Happy event, which saw the creation of a nature playground right in the heart of the concrete jungle that is Sydney. The event included dancing Tree People, a giant swing, classic board games like tic tac toe and jenga and put smiles on the faces of visitors and commuters alike.
To re-live the happiness, we created a short video highlighting the fun and frivolity had by all who attended.
We hope that you feel happy when watching the video and that it inspires you to get involved in National Tree Day on July 26.
Needing Tree - The Nature of Happiness
The event was hosted to launch a new report titled Needing Trees - The Nature of Happiness. The report shows that nature has a positive impact on the growth and functioning of our brains, which helps us become happier and healthier people. It doesn't matter whether you're a kid climbing a tree house ladder or an adult climbing the corporate ladder nature is good for you. Read the research to find out more.
Join Us For National Tree Day
On Sunday 26 July, National Tree Day events will be happening across Australia and we would love you to join us by participating in your local site. Find out where they are or host a planting in your own yard.