Grow Happy at Customs House: Nature Playground
Date: 29-Jun-15
Author: Planet Ark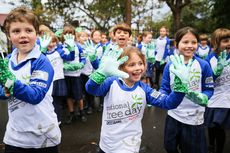 Event: Nature Playground for National Tree Day
Date: Thursday 2nd July, 2015
Time: 7AM- 7PM
Where: Customs House, 31 Alfred St, Sydney, NSW, 2000
Cost: FREE
Things are greening up in the lead up to National Tree Day, the country's largest nature-care and tree planting event. On Thursday 2nd July you'll be able to re-live the fun you had as a kid playing outside amongst the trees - even though you're smack in the centre of the CBD.
Planet Ark and sponsor, Toyota Australia, have constructed a nature playground on the forecourt of Customs House at Circular Quay to launch a new research report titled Needing Trees -The Nature of Happiness.
Commuters, kids on school holidays and office workers will look up from their screens and connect directly with nature. As well as adult-sized playground equipment and games. What a tree-t that will be!
There will be smiles all round including on the 3m x 3m smiley made out of a vertical garden. It'll welcome passers-by to come on in a get happy.
Savour the serotonin. Jump on the swing. Hug a tree and hang out with the Toyota Tree People. The Nature playground will be filled with a sense of adventure, fun, creativity, play, and trees of course! It is for both kids and adults. It's completely free and is an ideal activity for kids of school holidays and office works on a lunch break. How much more fun is climbing a slippery-dip than climbing the corporate ladder?
This year marks the 20-year anniversary of National Tree Day and Planet Ark is happy to be celebrating it with the City of Sydney. So go out on a limb and do something good for the environment and your own health.