The Dalai Lama blesses tree in the 20th year of National Tree Day
Date: 10-Jun-15
Author: Emily Donnelly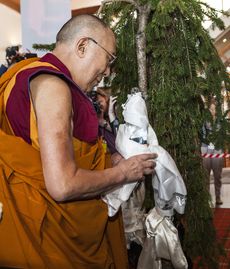 "Happiness is not something ready-made. It comes from your own actions"- 14th Dalai Lama.
The Planet Ark team was thrilled to be part of a special ceremony with His Holiness the 14th Dalai Lama, who blessed a tree at Fairmont Resort Blue Mountains MGallery, in support of the 20th year of National Tree Day.
His Holiness' blessing of the weeping spruce tree symbolises the importance of environment protection as a universal responsibility. The tree will also help provide an atmosphere of natural beauty, happiness and serenity at the resort's wellness centre for years to come.
The endorsement of the National Tree Day campaign by the Dalai Lama lends a great deal of credibility to our cause and message. Planting a tree is a simple act but an important gesture that has a far-reaching impact, both for the environment and the individual.
Debbie Agnew, National Tree Day Manager, said she hoped that the actions of His Holiness the Dalai Lama would inspire others to get involved in a National Tree Day event and encourage conservation work in communities.
The tree blessing also aligns with the Fairmont Resort Blue Mountains Mgallery's commitment to AccorHotels Planet 21 initiatives, which are linked to sustainable development and protecting our planet, its people and their environment.
Ahead of Schools Tree Day this year, we have again teamed up with Cool Australia to develop 'The Nature of Mindfulness' teaching resources, which are quick and easy activities that allow students to experience and share a range of nature-based mindfulness practices that connect them to themselves and the world around them. The practice of mindfulness is fast becoming a tool used in schools to help with concentration, relaxation and improve performance.
So, have you registered your site or school yet for National Tree Day and Schools Tree Day? Register at http://treeday.planetark.org/coords/site.cfm