Tree Day goes Troppo
Date: 23-Nov-09
Author: Michelle Cook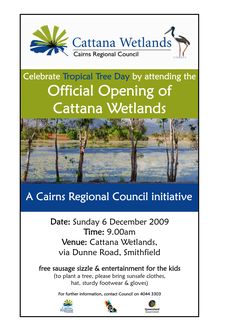 Tropical Tree Day is the special day for residents of Australia's tropical regions, to take part in National Tree Day. It is one of a further 12 alternative planting dates held throughout the year and is staged annually to accommodate areas that may not find it suitable to plant on National Tree Day.
This year's National Tree Day has already seen 250,000 volunteers plant more than 1.5 million native trees and shrubs at over 3,500 sites nationwide.
"Tropical Tree Day is held on the first Sunday in December to coincide with the onset of Northern Australia's wet season as planting trees at this time gives seedlings their best chance of survival", explains Planet Ark spokeswoman Rebecca Gilling. "National Tree Day, held annually in early August, falls in the middle of Northern Australia's dry season which is not an ideal time to be planting trees in Australia's top end".
Cairns Regional Council will mark Tropical Tree Day with the official opening of the Cattana Wetlands. Residents are invited to attend tree-planting activities from 9am. There will be a free sausage sizzle for volunteers and entertainment for the kids. Please remember to wear sunsafe clothing, a hat, sturdy footwear and gloves.