Dig in for National Tree Day, volunteer as a Site Coordinator.....
Date: 14-May-15
Author: Claire Grant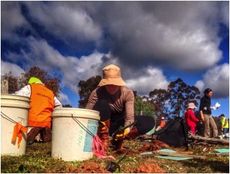 Planet Ark is celebrating 20 years of planting trees this year and once again we are asking Australians to volunteer as a site coordinator for National Tree Day on Sunday 26 July and Schools Tree Day on Friday 24 July.
In recognition of National Volunteer Week which is the largest celebration of volunteers and volunteerism in Australia, The National Tree Day team would like to say a big THANK YOU to all our volunteers past and present
National Tree Day is a campaign that relies on the thousands of community groups, schools , businesses, councils and individuals who generously give their time and get their hands dirty to plant trees and give something back to nature. It also allows people to truly connect with nature and receive the benefits of that connection.
By taking part in National Tree Day, you'll be contributing to Australia's largest community tree planting and nature-care event and joining thousands of individuals in making a difference, connecting people with nature, beautifying neighbourhoods and inspiring positive environmental change.
We have loads of resources on our website to help make your tree day event a success, including an Organisers Toolkit, Getting Started Guide, Posters, Flyers and lots more ready for you to use.
If you register as a Tree Day Site Coordinator by 25th May 2015 you will automatically be in the running to WIN one of two vertical gardens (valued at $500 each), compliments of the Productive Garden Company.
Go on... dig in and register to become a site coordinator today.