With Vertical Gardens the Plant-abilities Are Endless!
Date: 04-May-15
Author: Debbie Agnew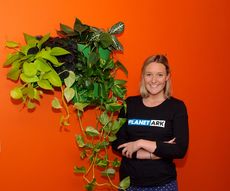 You can create a lush oasis just about anywhere. Inside or out. On the floor or on a wall. In a tiny apartment or in the boardroom. The plant-abilities are endless with vertical gardens. Take it from the team at Planet Ark, we just installed green walls in our reception area, meeting room, hallway, kitchen and work area. And the best news is you don't need a green thumb to have a green wall thanks to the Productive Garden Co who specialise in affordable, easy to assemble, modular, vertical gardens made from 100% recycled products. You wouldn't believe how easy, cost effective and infectiously fun these green walls are. Check them out and see our new transformed office!
Planet Ark's Young Street Offices just received a green makeover. Thanks to the Productive Garden Co we now having a thriving green office environment. It's amazing how the addition of plants brighten up a space, add warmth, beauty, interest and add to the air quality. The Planet Ark team spent a fun day as a group activity creating these amazing features and we are now enjoying their ongoing benefits.
Find out more:
http://treeday.planetark.org/businesses/veticalgardens.cfm