Help Create a Nature-Rich Learning Environment at Your School
Date: 16-Apr-15
Author: Claire Grant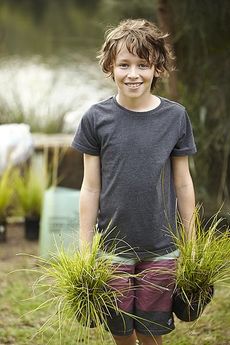 Join Planet Ark and over 280,000 educators, children and parents in celebrating Schools Tree Day the week of Friday July 24, 2015.
Research shows that time in nature helps children thrive and is critical for their intellectual, emotional, physical and spiritual development.
Register for Tree Day to receive discounts and promotions
This year we have some great ways for you to create nature-rich learning environments for your students, thanks to our friends at Seedsticks® and the Productive Garden Company.
Teachers give Seedsticks® a big green thumbs up. Seedsticks® are ideal for early learners who typically have problems 'pinching' tiny seeds. Class Planting Packs allow children to plant from seed, nurture and care for their seedlings and watch them grow. Seedsticks® offer a range of ready-to-plant seeds on biodegradable sticks. Individual packets are designed in a fun gardening glove shape and include five plantable seeded sticks. Seedsticks® Class Planting Packs include 30 individual packets, enough for an entire class, and you can purchase Seedsticks® for a special Schools Tree Day rate of $29.99 if you're a registered coordinator.
Woolly Pockets are an easy-to-install system that allows novices to create vegie patches and vertical gardens on walls, rails and chain-link fences. Pockets are soft-sided, breathable, modular, inexpensive and infectiously fun!. All hardware is included and it's as easy as hanging a painting on a wall. It works brilliantly for florals, edibles, foliage, succulents and plants of all kinds. Special pricing available for Tree Day Coordinators.
Click here to learn more or order yours today.