Yarra Ranges Special Development School Wins Visit From Kids' TV Sensation Dirtgirl
Date: 25-Nov-14
Author: Debbie Agnew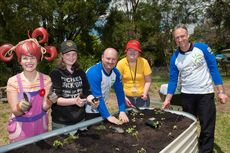 Yarra Ranges Special Development School has won Planet Ark's Schools Tree Day Photo Competition ahead of 200 schools nationwide, laying claim to a new school garden and visit from ABC4Kids television and Internet sensation, dirtgirl.
Yarra Ranges is a kindergarten through high school that caters to children with intellectual and physical developmental challenges and disabilities. The school was awarded the Schools Tree Day Competition Grand Prize, valued at $3,500, on Friday.
Teachers across the country were asked to send in a photo and short message describing how their students were developing a love of nature. Entries were judged on the quality of their photograph, and their creativity in depicting the Get into Nature and Grow slogan.
Yarra Ranges' winning entry showcased a small boy with two dirty soiled hands in the air, which personified what the campaign is about - getting kids into nature, having fun, getting their hands dirty and thriving as a result.
The school received a brand new three-bed vegetable garden and a special appearance from dirtgirl. The garden beds were purchased in special sizes so children in wheelchairs can plant and access the vegies and harvest.
You can see all the entries in the Schools Tree Day photo competition in our photo gallery.