Create a Better Future in Enviroweek
Date: 15-Aug-14
Author: Claire Grant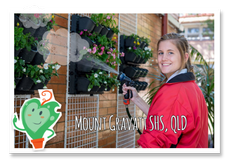 Who wouldn't want to be a Sparky, Trader or Wild Child? Well if you're a teacher (or have kids at school) you can take up the challenge and help the environment during Enviroweek (August 24-30), which is organised by our great friends Cool Australia.
It's a fun and action packed week of activities for the whole school with students and teachers taking up the challenge to create a sustainable future. There are six challenges to choose from all with pretty cool names:
Foodie
Green Thumb
Sparky
Trader
Waste Warrior and
Wild Child!
The great thing about these challenges is they can be are tailored to suit different learning objectives and student interests and teachers can access free national curriculum aligned resources. Enviroweek is also a great way to follow up on your School Tree Day activity. Get the Green thumbs back outside to look after the recent plantings.

Get involved!
Jump online at enviroweek.org to choose a challenge and sign up or encourage the teachers at you kid's school to join up.

Enviroweek runs from 24th-30th August, as an extra incentive there are great prizes to won valued at more then $20,000.