Putting the Garden in Kindergarten
Date: 25-Jul-14
Author: Brad Gray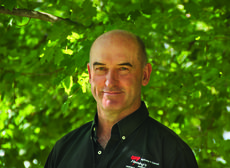 There are a host of famous faces ready to get dirty to help Planet Ark make National Tree Day a huge success. Wes Fleming, the winner of the 2013 Chelsea Flower Show, has joined ABC4 sensation dirtgirl as our newest ambassadors.

Wes is a third generation horticulturalist, so has an understanding of the importance of fostering a love of nature, particularly for children.

"By demonstrating the importance of trees and plants within the community via well-planned events like Planet Ark's National Tree Day, we are teaching our children one of the greatest lessons of our time – to respect, value and appreciate trees and plants," says Wes. "By improving parks, gardens and green spaces through events such as National Tree Day, we can reap the health and social benefits for years to come."

National Tree Day and Wes are a perfect match. As well as running his own nursery, Wes is involved in many projects designed to bring plants and nature into people's daily lives. Early in 2014, he partnered with Darebin City Council in the Transforming Darebin project to spruce up some of the grey and barren city streets of Preston with plants and trees.

He's also a passionate advocate about putting the garden in kindergarten and is currently pioneering a program to study the effects of greenery on the health and wellbeing of Kindergarten children. Wes can also be seen on an episode of the Garden Gurus talking about the perfect plants to use.

Our Team of Ambassadors
Wes is joined as one of our fantastic ambassadors by ABC4 TV sensation dirtgirl, Gardening Australia's Costa Georgiadis, garden designer Jamie Durie, TV personality and meteorologist Magdalena Roze, Ranger Stacey Thomson, and author Jackie French.