What Is Nature Worth?
Date: 24-Jun-14
Author: Marty Middlebrook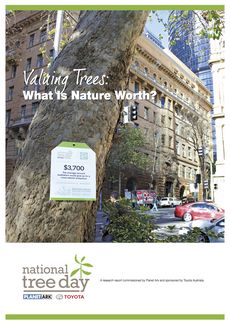 Planet Ark Valuing Trees Installation
Planet Ark constructed an urban forest on the forecourt of the iconic
Customs House at Circular Quay
in Sydney to launch a new report titled
Valuing Trees – What is nature worth?
Thousands of morning commuters were greeted with trees and plants where there's normally a concrete forecourt - an urban forest. Many received a free desk plant, tree wallpaper for their computer and met the grass-covered lounge and with the Toyota Tree People.
The report, sponsored by Toyota, and released in the lead up to National Tree Day in July found that having plants in and around the workplace and classroom helps: reduce sick leave and stress; boosts productivity and creativity; and filters and cleans the air. It also found that workers are willing to sacrifice an average of $3,674 in salary* to be able to connect with nature at work more often.
The great news is that virtual nature also has a positive effect on mood and well-being - you can
download your FREE wallpaper
then spend a bit of time each day staring at it - you'll feel better.
* Based on a salary of $70,000