Become a site coordinator for National Tree Day 2014
Date: 26-Feb-14
Author: Jess McCallum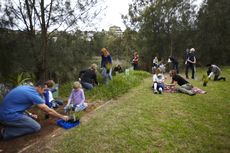 It's that special time of year when we're recruiting the important people that make National Tree Day happen across the country - our site coordinators! And we know you've got what it takes!
Planet Ark is encouraging Australians to be part of National Tree Day on Sunday 27th July and Schools Tree Day on Friday 25th July by connecting nature, valuing our environment and planting for the future.
We're looking for site coordinators from councils, schools, national parks, Guides, Scouts, faith groups and land and nature-care groups who would like to contribute to their local environment. Hosting a site is a great way to engage the wider community in what your group does, but also with a positive, beneficial environmental activity and outcome.
Each year over 200,000 people take part in National Tree Day events at more than 3,000 sites around the country, adding value to the environment, to their own health and wellbeing and to the local community.
Coordinators needn't be planting professionals as Planet Ark provides ideas and assistance. By participating in National Tree Day, coordinators will be contributing to the country's biggest community tree planting and joining thousands of individuals in making a difference, connecting people with nature, beautifying neighbourhoods and inspiring positive environmental change.
So what are you waiting for? Check out the National Tree Day Site Coordinator page to get all the information you need, download the Organiser's Toolkit and register your site today.