How to be sweet to your local bees
Date: 13-Jan-14
Author: Zo Zhou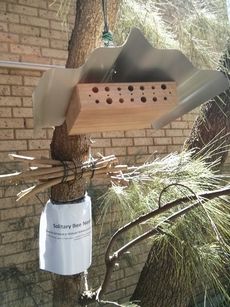 Solitary bee nests at Ultimo
As more of the world falls in love with our humble pollinators, hives and bee hotels are popping up everywhere from restaurant rooftops to community gardens. Surprisingly, some people don't realise that bees help flowering plants produce seed, and in turn, many of our favourite fruit and veg.
Here's how Australians have been sweet-talking bees into their garden, and how you can too...
In the community
Community gardens in Ultimo, Sydney and the Coal Loader in Waverton are attracting local native bees with their flowering edible plants, and installing solitary bee nests. These local native bees are of the stingless variety, so you can go about admiring them as they pollinate or simply rest on the plants.
If you're more of a honey appreciator, there are a growing number of restaurants and urban beekeepers who'll help indulge your sweet tooth. Berta serve honey from their rooftop hives in Sydney, as do Cornersmith and several others.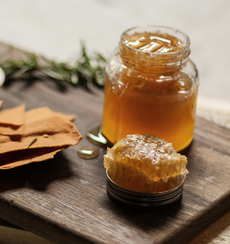 Honey from Berta's rooftop hives
At home
Thinking of luring some bees to pollinate your own garden? The easiest thing you can do is bundle together 15 - 20 cm long hollow sticks (such as woody old hydrangea stems, or lantana stems from weeding). Tie them together and simply hang them under trees.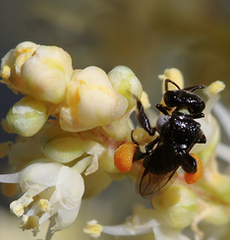 Native bee image by
Troy Bell
If you want to add a bit of artistry to your bee home, check out this tutorial on creating your own "bee hotel", or follow some Australian bee pages and groups on Facebook for real life inspiration and information. There are often workshops you can take with experienced bee lovers too. National Tree Day Lockyer made a quick little video about native stingless bees and why they make such interesting garden companions!
Your food choices and how you garden can also affect local bees. Find out how to bee friendly with your shopping and gardening.