Grow A Greener Christmas
Date: 04-Dec-14
Author: Zo Zhou

Wondering how you can keep nature close these holidays? Incorporating growable elements into your decorations and gift giving is a great way to build special festive memories. It can also be a great way to build up local greenery!
Choose a living tree
A living tree is reusable year after year, saving you both time and money shopping. If your small tree begins to outgrow its pot, you can simply plant it in your backyard or gift it to someone who has a backyard. The local birds will be rejoicing too! Choose Australian natives as your Christmas tree for the best environmental outcomes, but if you can't find any, hardy herbs like rosemary can make a useful addition to the garden.
Give the gift of growth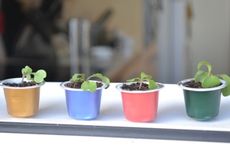 Plants make wonderful gifts, and can be one of nature's most effective ways to perk up a home - both visually and through the air purifying qualities they possess. Get creative with your gifting and grow seedlings in upcycled containers! Try to choose containers that are readily recyclable if your recipient needs to do any replanting. Nespresso pods for example can be scrunched with aluminium foil into a ball and be recycled through kerbside.
Looking for more ways to incorporate more joy and less waste into your Christmas? Check out Planet Ark's 12 Do's of Christmas.