Seedsticks to help schools raise greener funds for Tree Day
Date: 16-May-13
Author: Zo Zhou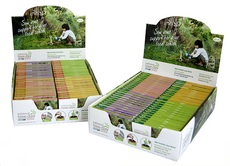 Planet Ark is proud to announce that Seedsticks will be the official supplier of specially designed Schools Tree Day seed packs. Teachers and students can bring nature into the classroom or get the community growing to show their support for Australia's largest planting and nature care event! Each pack contains ten seedsticks designed to make planting a breeze, with a range of easy-to-grow natives, herbs and veges.
Here are just a few ways schools will raise funds for their Schools Tree Day activity:
Bringing seedsticks to the neighbourhood (a sweeter alternative to selling chocolates!)
Providing local businesses with seedsticks to give customers/staff or sell on their behalf
Planting seedlings in class (the packs are especially great for small hands)
Holding a market stall within the school or externally
Teaming up with another local fundraiser (eg. Lions, Rotary clubs)
Interested in helping students connect with their community to bring more green to your neighbourhood? Find out more and order your box, or if you're a business willing to help out your local participating school, email us to be put in touch.