Toyota steers towards a greener future
Date: 19-Apr-13
Author: Zo Zhou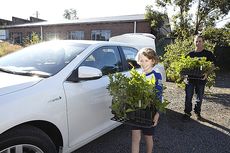 Congratulations to Toyota, which has now sold over 5 million gasoline-electric hybrid vehicles as of the end of March. The Prius series accounted for about 70 percent of those sales, making it the most popular hybrid model in the automotive industry.
This year also marks 14 years of sponsorship of National Tree Day. As part of that partnership, Toyota will once again be getting their dealers on board to pitch in with their communities' efforts to green local spaces. Every year we get countless positive feedback from those who run Tree Day activities. Here are just some of the comments we received last year:
"Our local Toyota Dealer has provided longstanding support and we consider them a project partner more than a sponsor."
"City Toyota were fantastic. They generously supplied plants and a team of helpers on the day."
"The local Toyota dealer, Northpoint Toyota at Pt Augusta, helped make the day very successful."
"The people at Toyota donated trees and were fantastic."
This year we're looking forward to planting the 20 millionth seedling thanks to Toyota's long standing support of Australia's largest planting and nature care event! Register your event and come July 28th, let's Get Outside and Grow!