Green thumbs wanted to help plant 20-millionth seedling
Date: 15-Mar-13

Planet Ark is calling for the help of green-minded individuals, who want to make a difference in their community, to run a tree planting site or nature-care activity for National Tree Day. You'll be part of a milestone event, as Planet Ark and sponsor Toyota Australia prepare to plant the 20-millionth seedling since the event began in 1996.
There are so many things you can do as a Tree Day activity. Here are just two examples from last year:
Wolgan Valley Resort and Spa invited the community to plant local native species to help preserve the unique wildlife heritage in the area, and restore the former grazing property to encourage natural reintroduction of native flora and fauna. Find out more about how your workplace could take part in Tree Day or read more about Wolgan Valley's planting.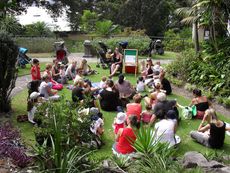 Children and Young Adult Office Michella McIntosh brought Tree Day to her local libraries by complementing Storytime with a tree planting. Though they didn't have space to plant lots of trees, each child also received a pot and some seeds to bring home so they could carry on growing. They also introduced the children to the Council's worm farm to promote sustainable growing practices.