A HUGE Thank You From Planet Ark
Date: 31-Jul-12
Author: Zo Zhou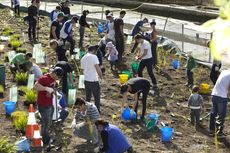 Thanks to the efforts of over 3,200 site coordinators from schools, councils, community groups, Toyota dealers and other businesses, National Tree Day resulted in the planting of an estimated 1.2 million trees and brought over 250,000 people together to make a lasting positive difference.
If you want to make a longer term commitment to a greener Australia and a healthier lifestyle, there are more Tree Day events happening throughout the year - simply use our find a site page to locate a site near you. Your local Landcare, Bushcare, Friends group, Conservation Volunteers group or community garden would also love to have you. Most local councils can connect you with local groups.
Want to help us make Tree Day even better for next year? Fill out one of our tailored surveys so we can make your life easier for Tree Day 2013:
Stay tuned for the release of official National Tree Day results!