'Green time' helps learning and wellbeing
Date: 27-Jun-12
Author: Zo Zhou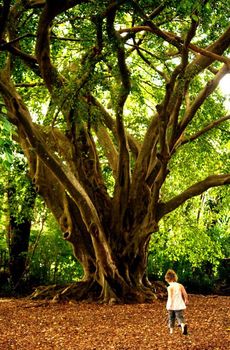 Did you know that 'green time' can significantly improve children's academic performance and overall wellbeing? If so, you're in the minority - only 7% of Aussie parents prioritise 'green time' to help their kids at school. Planet Ark and Toyota's recent study Planting Trees - Just What the Doctor Ordered points to the more human benefits of connecting with nature through events like National Tree Day. "Getting children out into nature has always been great for their creativity and imagination, but now we know there are direct health benefits too," says Planet Ark Spokesperson Rebecca Gilling.
The report comes with a few surprises as well as more expected findings that 'green time' can help foster environmental awareness, and reduce depression and stress levels, risks of obesity, ADHD symptoms and myopia. International expert Dr Mardie Townsend of Deakin University notes that "just 30 minutes of green time daily can level the playing field for children who aren't naturally good at book learning by having a positive impact on their higher order cognitive skills."
"Doing nature-based activities can boost self-esteem for kids who struggle to learn the traditional way, and natural settings can help restore kids' ability to concentrate and reduce stress by providing a soothing atmosphere," she says.
Over the last 20 years, the changing nature of houses and gardens, urban design, working hours, childcare, time pressures on families, as well as the increased uptake of electronic entertainment and consumerism, have all put pressure on 'green time.' To help you connect with nature, check out some of our tips to get you and your family started.