Announcing the winners of our Schools Competition
Date: 29-Nov-11
Author: Lucy Band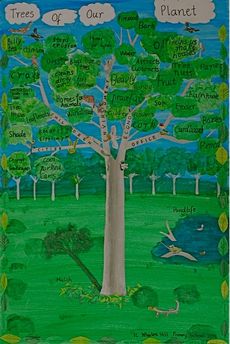 This years "Life is Better with Trees" schools competition was a huge success. We were overwhelmed with the number and standard of the entries we received and the creativity and hard work that went into every entry was outstanding!
A big thank must go out to everyone that participated and we hope that it was an enjoyable learning experience for all of the students involved.
The winners of the 2011 'Life is Better with Trees' Schools Competition are;
Stage 1
Sacre Coeur College - Winner

Grafton Public Shcool - Runner Up

Wheelers Hill Primary School - Highly Commended
Stage 2
Binnaway Central School - Winner
Jasper Road Public School - Runner Up
Holy Cross Public School - Highly Commended
Stage 3
Clifton Hills Primary School - Winner
St Andrew's Anglican College - Runner Up
Stage 4
Baulkham Hills High School - Highly Commended

All the prize money has been kindly donated by Planet Ark's Make It Wood - Do Your World Some Good campaign, which promotes the use of sustainably sourced wood as a solution to climate change.
Thank you again to everyone who entered and we hope you will join us again in 2012.