Today is National Tree Day
Date: 31-Jul-11
Author: Lucy Band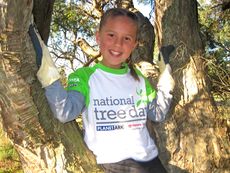 Today people nationwide are getting out to help at over 2,500 official tree planting and land care activities organised by councils, schools, businesses, communities and Toyota Dealers.
Since National Tree Day began in 1996, more than 2.5 million volunteers have planted 16 million native trees, shrubs and grasses.
"Recent research has shown that Aussie kids are spending less time outside. National Tree Day provides a great opportunity for kids, families and friends to get together, have fun, help the environment and contribute to a legacy for future generations," says Planet Ark spokesperson Rebecca Gilling.
As well as planting new native trees and shrubs, volunteers will be visiting former National Tree Day sites to undertake important maintenance on previous planting projects.
National Tree Day aims to educate Australians as to the benefits of tree planting, which helps to address important environmental issues such as the loss of habitat for native wildlife, local provenance, salinity, erosion and long-term carbon offsetting.
"Toyota has sponsored National Tree Day for the past 12 years because we genuinely care about the environment. Toyota continues to mobilise its network of dealers, staff and brand ambassadors to support and contribute to National Tree Day," said Toyota Senior Executive Director, Sales and Marketing David Buttner.
National Tree Day is organised by Planet Ark in partnership with Toyota and its Dealer Network, which provides on the ground support at local community tree planting sites Australia wide.
Life is Better With Trees !