Today is Schools Tree Day !
Date: 29-Jul-11
Author: Lucy Band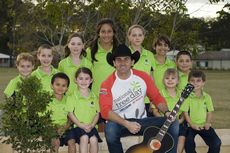 Schools Tree Day is the dedicated day for Australia's younger generation to play their part in National Tree Day, Australia's largest community tree-planting and nature care event.
Now in its 16th year, National Tree Day has seen more than 2.5 million volunteers plant over 16 million native trees, shrubs and grasses.
"This year the event has more relevance than ever before," says Planet Ark's Rebecca Gilling. "New research shows that Aussie kids are spending far less time outdoors than the previous generation, and Tree Day is a great platform to get them back outside enjoying all that our natural environment has to offer."
National Tree Day also aims to educate Australian school kids on the benefits of tree planting, which helps to address important environmental issues such as the loss of habitat for native wildlife, local provenance, salinity, erosion and long-term carbon offsetting.
"Toyota has sponsored National Tree Day for the past 12 years because we genuinely care about the environment and want to help provide a cleaner and healthier environment for all generations. Toyota continues to mobilise its network of dealers, staff and brand ambassadors to support and contribute to National Tree Day," said Toyota Senior Executive Director, Sales and Marketing David Buttner.
Sunday 31 July is National Tree Day, and Planet Ark and Toyota are encouraging all Australians to get involved. Individuals and families interested in volunteering can find their nearest event site at treeday.planetark.org or by calling the Tree Day Hotline on 1300 88 5000.
Life is Better with Trees!