RSVP to a Tree Day event to WIN!
Date: 21-Jul-11
Author: Lucy Band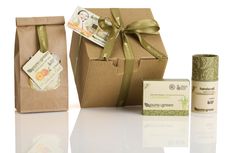 Are you planning to come along to a National Tree Day event this year? If so, make sure you RSVP via our website and you'll go into the draw to WIN one of five Pure & Green Organics gift packs valued at $50 each.
To RSVP, simply search for a Tree Day site near you via the Find a Site section of our website, select the event you wish to attend and complete the RSVP form at the bottom of the site profile page. Make sure you get your name ticked off on the volunteer register when you arrive at the event and you'll be in the running!
Pure & Green Organics products are endorsed by Planet Ark and it is the only beauty brand to have ALL its products certified organic with ACO containing a minimum of 95 percent certified organic ingredients. Plus they use plant based bottles and boxes made with 100 percent recycled paper ! The Pure and Green Organics product range includes soaps, bath salts, toothpaste, facial, skin and body care products.
Planet Ark Endorsed Pure & Green Organics products are available from selected retail outlets, health-stores and online. Visit our Products and Solutions website to find out more.