Question Time with National Tree Day Ambassador Lee Kernaghan
Date: 14-Jul-11
Author: Lucy Band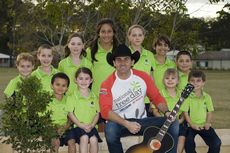 PA: What do you like about being a National Tree Day Ambassador?
Lee: What I really love about National Tree Day is being a part of the community tree planting effort. People from all ages get involved and I think everybody gets a real kick out of being involved in a yearly event that has such a positive effect on our environment.
PA: Why should others get involved in this great community event?
Lee: Well, it's fun, it's something you can do with your family and friends and there is a huge sense of achievement seeing the transformation that takes place with the planting and natural revegetation.
PA: what else can Australians do to help their environment?
Lee: I think it's possible for everyone to do their bit for the environment in their own way. It could be as simple as using low energy lights, saving water or planting a tree.
PA: Do you draw inspiration for your songs from the natural environment?
Lee: Many songs I've written were inspired by the places I have travelled to. From the Snowy Mountains to the rugged outback ranges, the Australian Bush has provided a backdrop and inspiration for much of my music. It's all out there for us to enjoy but we must take care of our natural environment to ensure we can continue to enjoy what we have today for generations to come.
PA: Why do you think Life is Better with Trees?
Lee: Life is enormously better with trees. You only have to take a walk through one of our many national parks to experience firsthand how good it feels to be surrounded by trees. Toyota and Planet Ark are huge supporters of National Tree Day and to see those millions of trees being planted and knowing that each of us in a small way can make a big difference is what National Tree Day is all about.