National Tree Day - Getting Aussie Kids Back Outdoors
Date: 04-Jul-11
Author: Lucy Band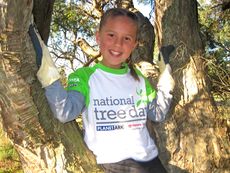 Research commissioned by Planet Ark and sponsored by Toyota has been released today. The research report titled Climbing Trees - Getting Aussie Kids Back Outdoors, investigates childhood interaction with nature and how this interaction has changed in just one generation.
The report shows that the landscape of childhood has changed so significantly in just one generation that 73% of Aussie parents agreed that they played outside more often than indoors compared to only 13% of their children.
The choice of outdoor activities between generations has also changed with activities like jump rope, hopscotch and street games down from 66% to 29%, exploring nature down from 65% to 28%, and only 19% of children climbing trees today compared to 64% of children a generation ago. Furthermore, 73% of people stated that they played on their street as kids but only 24% of their children do the same.
The research revealed that the barriers to outside play include crime and safety concerns, with 87% of respondents saying they were worried about letting kids play games on the street like they once used to and one in four parents saying they simply don't have enough time to play outdoors with their kids anymore.
However Aussies overwhelmingly agree on the benefits of outdoor play for the positive development of our next generation of kids, allowing them to use their imaginations, helping to develop physical and motor skills and providing a positive outlet for reducing stress.
So How Can National Tree Day Help ?
National Tree Day is Australia's largest tree planting and nature care event, where kids and their families can get outside and have fun. It's a safe day out for families, giving them the opportunity to do something positive for the environment with their local community.
With thousands of sites at schools, parks, gardens and other locations across the country, National Tree Day and Schools Tree Day are the perfect first step to getting Aussie kids and their families back outside.
Click here to find National Tree Day activities in your area or call the National Tree Day Hotline on 1300 88 5000.
More Information
Climbing Trees - Getting Aussie Kids Back Outdoors, is an independent study commissioned by Planet Ark (and sponsored by Toyota Australia) in March 2011. It was conducted by Pollinate, a specialist communications research company, to investigate childhood interaction with nature and how this interaction is changing. Download the full report here.