Green Thumbs Required
Date: 05-Apr-11
Author: Lucy Band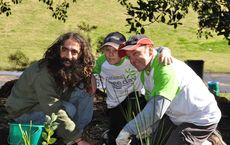 National Tree Day is Australia largest community tree-planting and nature care event. Now in its 16th year National Tree Day has seen over 16 million native trees, shrubs and grasses planted, thanks to the support over 2.5 million volunteers. But in 2011 we need your help again.
Planet Ark is calling on all green thumbs and gardening enthusiasts to coordinate a tree day activity site with their school, sporting club, church, green group or just your friends and family. While many people like to get their hands dirty planting trees, you can register and run a number of activities including bush regeneration, seed collection, educational seminars or a simple bush walk.
Register to Win
Site coordinators who register a school or public site with Planet Ark before Friday 27 May will go into the draw to WIN a visit to their site from celebrity landscape architect and all round great guy Costa Georgiadis of SBS's Costa's Garden Odyssey.
Schools Tree Day is taking place on Friday 29 July and National Tree Day is Sunday 31 July. But you can register an activity on any day of the year, to suit you and your local environment.
"If you have a passion for the environment and love gardening then you are the perfect candidate to be a National Tree Day Site Coordinator," says Planet Ark spokesperson Rebecca Gilling.
"We encourage anyone who wants to make a difference and get involved in a worthwhile community activity to register a National Tree Day site," says Gilling.
Register now Online or call the Tree Day Hotline on 1300 88 5000 - Because Life is Better With Trees
National Tree Day is organised by Planet Ark in partnership with Toyota Australia.