Life is Better With Trees ....? It sure is !
Date: 15-Dec-10
Author: Lucy Band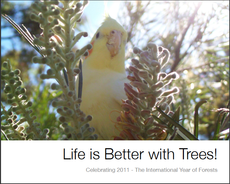 Our "Life is Better with Trees" schools competition was a huge success, with over 70 schools entering form across the country. The entries ranged from posters, pictures and plays to collages, cards and calendars all exploring the theme "Life is Better with Trees." A big thank must go out to everyone that participated and for all the hard work that went into each and every entry.
Our judges, Peter Carnavas - Author of Last Tree in The City and Paula Wilson - from Tetra Pak who kindly donated the prize money, had a tough decision to make. But the winners are;
Stage 1
Clermont State School - Stage 1 Winner
Broadbeach State School - Finalist
Cassia Primary School - Finalist
Oyster Bay Public School - Finalist
Stage 2
Faith Lutheran College Redlands - Stage 2 Winner
Presbyterian Ladies' College - Finalist
Tooborac Primary School - Finalist
Tooradin Primary School - Finalist
Stage 3
Infant Jesus School - Stage 3 Winner
Whitsunday Christian College - 3 x Finalists
An the overall winner is.........
Chisholm Catholic School for their Stage 2 entry. Chisholm Catholic will receive $2500 for their school and an original artwork by Peter Carnavas.
Again a big congratulations to everyone that entered and certificates for your hard work are on their way.
Remember any day is tree and we hope to see you again in 2011.
Sunday 31 July 2011- National Tree Day
Friday 29 July 2011- Schools Tree Day