What are you doing this National Tree Day?
Date: 11-Mar-10
Author: Planet Ark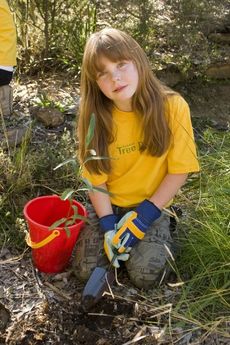 From caring for our coasts and beaches to creating a home for native animals, to growing a garden in the grounds of a school, there are endless opportunities and experiences that volunteers can enjoy this National Tree Day.
Celebrating its 15th year in 2010, Planet Ark is calling on keen gardeners to coordinate tree-planting sites or provide ongoing care to the many thousands of existing native trees and shrubs which have been planted as part of National Tree Day.
By taking part, you'll have the opportunity to share your expertise and teach future generations how life is better with trees.
This year's National Tree Day, proudly sponsored by Toyota, will take place around the country on Sunday 1 August. Planet Ark is asking active gardeners who are looking for a way to make a positive environmental difference, to register as Site Coordinators. Get your local school, sporting or church group together and ask your local council if they can provide you with some land to care for and seedlings to plant.
Site Coordinators are required to organise and supervise their registered tree-planting site. Planet Ark provides support to all registered Site Coordinators through its National Tree Day Hotline and website, where downloadable resources and a step-by-step guide, as well as tools to help you promote your tree planting, are readily available.
For an information kit visit http://treeday.planetark.org or call the National Tree Day Hotline on 1300 88 5000.