Banners/graphics for web and print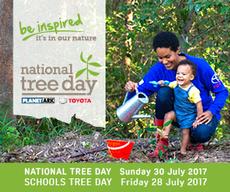 We are currently working on the 2018 planning tools and resources and all that you'll need to run a tree-mendous event. Launch timing mid May.
Help grow Tree Day with our banners and graphics, available for nonprofit purposes. Commercial users MUST contact treeday@planetark.org before using any graphics with the Tree Day logo.
Web banners must be linked to the Tree Day web site http://treeday.planetark.org/
Download: