Info for kids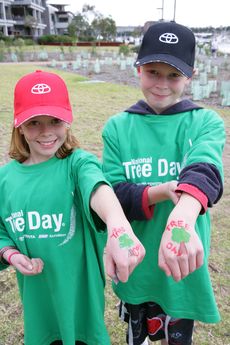 Wouldn't it be great to see your teachers get their hands dirty, make your school look beautiful, have fun with your friends and help the environment all at once! National Tree Day and Schools Tree Day give you the chance to do all of these things.
Ask your teachers if your school is registered to join in on Schools Tree Day, and if not then speak to your teacher or principal about getting involved. It's lots of fun, a great way to learn about your local environment and you could even win $1000 for your school, thanks to the AMP Foundation.
Once you have the permission of your teacher or principal you can download a form to register your school for Schools Tree Day.
If you'd like to get involved with National Tree Day outside of school then speak to your parents about coming with you to a tree day site in your local area.
You can even register your own tree day site, even if it's in your own backyard! Just make sure you have permission from the land owner and a responsible adult present at your site on National Tree Day.
Games for the Nature Explorer and fun with Fifi for the little ones!
Meet our Schools Tree Day Ambassador Fifi from Fifi and the Flowertots.
Here are some ideas to get you, your friends, family, school and community inspired to help look after our precious planet.
Find your state floral emblem and other interesting tree facts and figures.
"The Lorax", by Dr Seuss, is an engaging and magical tale with a hopeful message for the future.