Find a site near you
There are lots of ways for you to be involved in greening your community and making a difference to your local environment. Check out the hundreds of community planting events taking place around Australia. Enter your postal code below to see what's happening in your neighbourhood. Each Tree Day event will have its own page with more details. Whether planting at a local park, garden, reserve, bushland or foreshore area, there are lots of ways for you to do your part.
What to bring
Each site will tell you what you need to bring and where to meet, but as a general rule wear covered shoes, take along a hat, sunscreen and water in a reusable bottle.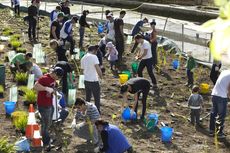 What past attendees say:
"It gives a sense of satisfaction to be able to look back in future years and think I have helped the community."
"It was lovely to see so many people out there, and my kids had a ball. It is great to think I can take them back there when they are older to show them how the trees have grown"
See what other past Tree Day attendees had to say when asked what they enjoyed most.
Can't make it? Sign up for Planet Ark's newsletter to be kept in the loop about other green initiatives: