2015 Schools Competition - Nature Craft Entrants
Wilkins Public School - NSW
Year 6
Teacher: Suzzanne Matkowski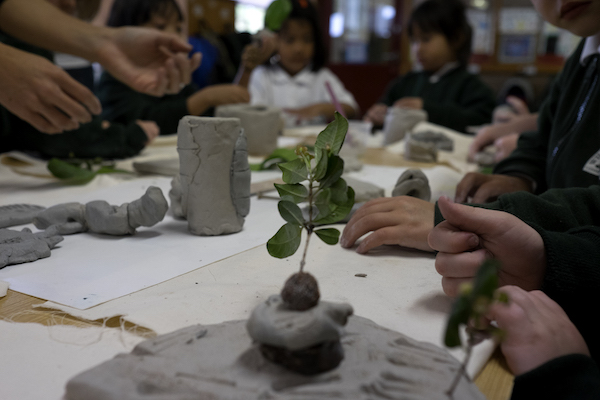 Inspired by the Sydney Blue Gum Hotel Tree, a gum tree at the Addison Road Community Centre close to the school that has been transformed to imitate a valuable habitat tree for local bird species, Kindergarten students at Wilkins Public School were invited to explore the importance of habitat and create Clay Habitat Totems for the Wilkins Green Community Garden.
Kindergarten students started their project by exploring the notion of habitat in particular thinking about living things in urban gardens and what kind of habitats the creatures of Wilkins Green Community Garden might need (& like). The group discussed the idea that holes, cracks, crevices, notches and hollows are habitats and micro-habitats – shelter, protection, and living quarters - for a wide range of birds, bugs and other animals.
Each child worked either independently, in pairs, or in a small group to make a habitat clay element, bead, cylinder or platform that would become part of a group of Habitat Totems to be permanently installed in the Wilkins Green Community Garden.
The children worked with ceramic paper clay and used various techniques to build and decorate their pieces, including using leaf/nature objects from the garden to imprint in the clay (pictured), shaping by pulling out of the clay, modelling with tools and adding shape and pattern details through joining and building.
The clay took one week to dry, was bisque fired in the school kiln, painted by all kindergarten students with underglaze in various bright and beautiful colours and glaze fired again in the school kiln*. The students gathered together as a group at the end of the project and arranged all the elements they had made, decorated and painted to build four beautiful habitat totems ready for ladybugs, spiders, snails and many other creatures to move into and use to enhance habitat availability in the Wilkins Green Community Garden.
(*note: this project could also be done using air drying clay & acrylic paints)