2015 Schools Competition - Nature Craft Entrants
Tyabb Railway Station Primary School - Vic
Year 6
Teacher: Carole Mayes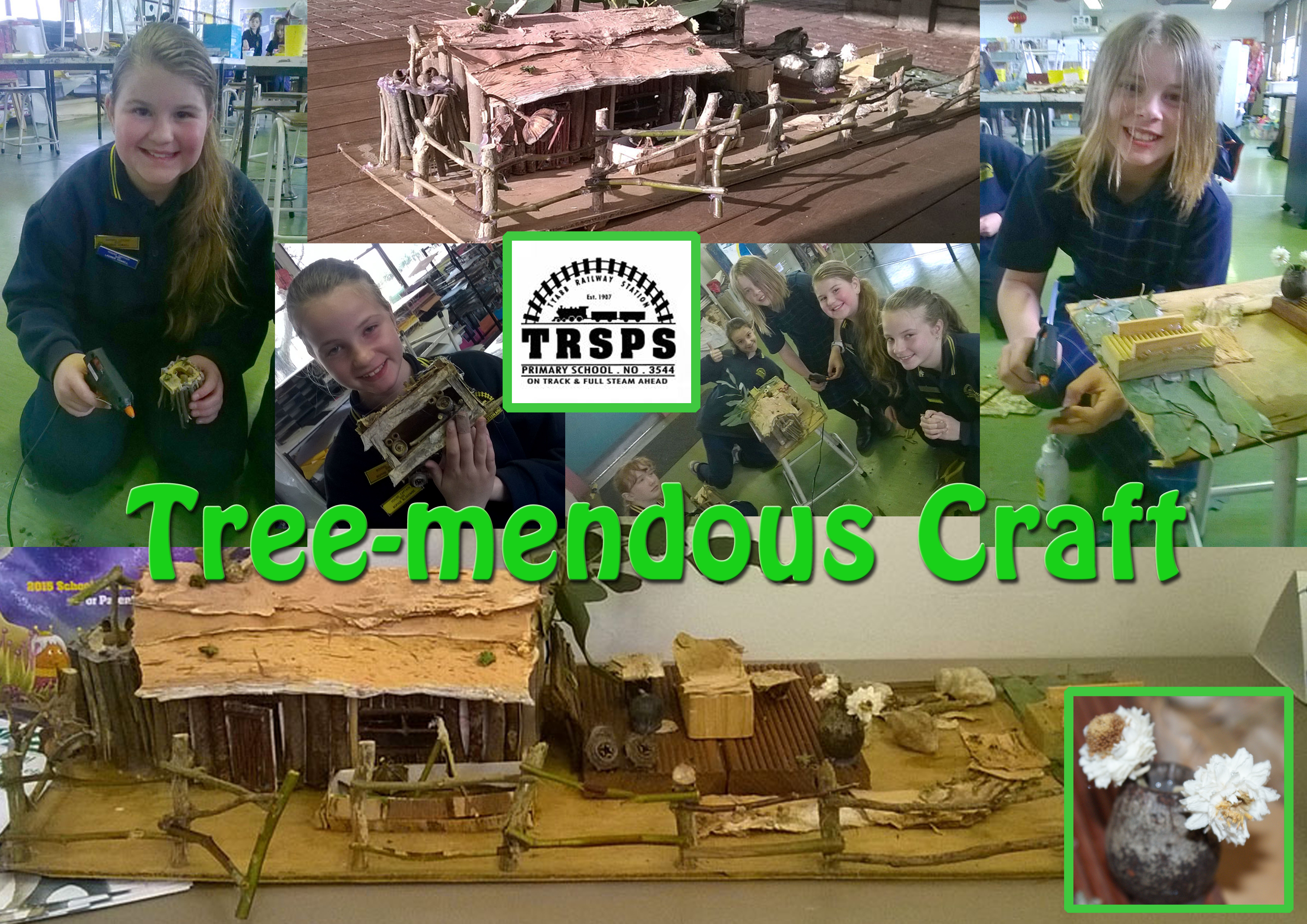 2015 Tree-mendous Nature Craft Competition
How to make an early settlement diorama.
Pliers or secateurs
PVA glue
Hot glue gun and extra glue sticks.
A large board to use as a base.
A small handsaw
Step 1: Design your artwork.
Make a quick sketch of your design. Consider how big it will be and what it is you will be creating. It could be an echidna or an emu, a Fairy house or a mystical castle; the opportunities are endless. Once you have your idea written down, you'll have a better idea of what materials you might need. It will also give you an idea of how much space you'll need. We had to create a second base for some of our larger items.
Step 2: Collect your materials.
Anything you'll find outside on the ground could be used as long as its from nature. Rocks, pebbles, twigs, flowers, leaves and bark (especially paperbark) all make perfect building materials. Make sure they're dry and brush off any soil or dust. We didn't want to take things off living plants, but we did decide to use a few green leaves for our river. We also thought it was OK to use cardboard boxes for larger projects like buildings, as long as you can't see the cardboard when you're finished.
Step 3: Get started.
Start measuring and cutting the twigs to suit your project. We found the cutting edge of pliers useful and secateurs would work well too. In either case, check with an adult first.
If you're using a box and want windows and doors, using scissors cut the windows out and cut three edges of the doors. If you leave one long edge attached, you can fold the cardboard and have a swinging door!
Twigs look great, but take a lot of time, and glue, to stick on. We liked using the paperbark to cover up large areas such as the roof. It was really easy to tear into the right shapes and glued down easily with PVA glue.
For the heavier items like thick twigs, a hot glue gun worked brilliantly. Check with an adult before using a hot glue gun and always be careful of the hot nozzle.
And just have fun, experiment and learn. We made a few mistakes along the way, but learnt from them and used what we learnt on other parts of the project. What stuck OK with PVA, what needed hot glue, how to cut twigs easily. These are some of the simpler things to remember, you'll come across your own problems. Just persevere, ask for help and never give up
Step 4: Finishing touches.
Once you have finished the main components of your project and have stuck them to the base board, stand back and look for any bare spots. If you find some bare spots, think about what else might look good. We decided to use some large pebbles as big rocks, set some small twigs up into a small campfire and made two cute little possums from gumnuts and glued them to the roof. Some of the twigs with leave still attached look great as a tree when they are stuck together.
Step 5: Put your work on show!
Ask your teacher if some work can go in the office for a short time. If not, take them home and show them off in your bedroom!
PLEASE, don't stop creating! With so many great plants growing in Australia with amazing seed pods and flowers, the creative opportunities are endless. Our students enjoyed this so much we have set up a weekly lunchtime activity. We hope to make some fun little animals and some mystical Fairy house to place around the school for the Juniors to find and play with.