2015 Schools Competition - Nature Craft Entrants
East Victoria Park Education Support Centre - WA
Year 6
Teacher: Sheena Paterson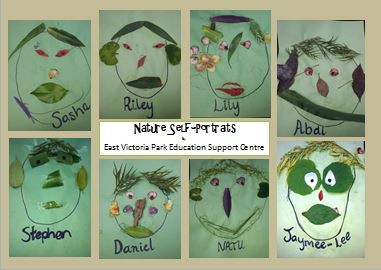 Nature Self-Portraits
Students create a self-portrait from found items from the school's garden.
Materials
Various plant matter e.g. leaves, petal, twigs, gum nuts.
Pva or other suitable glue
A3 paper of a colour that with compliment your found items
Pencil
Black Permanent Texta
Instructions
1. Draw a large rounded shape with pencil to be the the base of the face on your A3 paper
2. Glue on various plant matter to create portrait
3. Go over any visible lines with black permanent texta
4. Label and display.