2015 Schools Competition - Nature Craft Entrants
Winters Flat Primary School - Vic
Year 6
Teacher: Fiona Johnston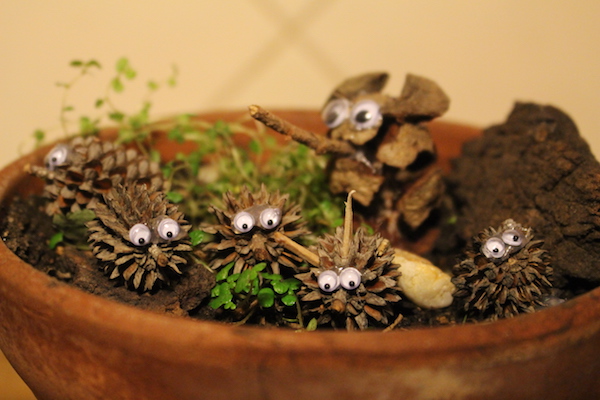 SEED POD ANIMALS
by Alina Graeve Grade 6 Winters Flat PS
HOW TO MAKE AN ECHIDNA
1. Go outside and search for a Casuarina seed pod that has opened up and still has a small twig for the nose.
2. Find a rock or a piece of bark for the echidna to sit on.
3. Collect some very thin sticks or pine needles (you can use matchsticks if you prefer).
4. Go inside and find a hot glue gun (you might need an adult to help with this as the glue is very hot). Glue on two googly eyes or very small gum nuts for eyes.
5. Stick small sticks or pine needles into the seed pod over the back to represent quills.
6. Glue echidna onto rock or bark.
7. Have fun with your echidna!
**You can make a range of animals from different seed pods and sticks as our photos show. Just be creative!