Freshwater Bay Primary School - Claremont SFS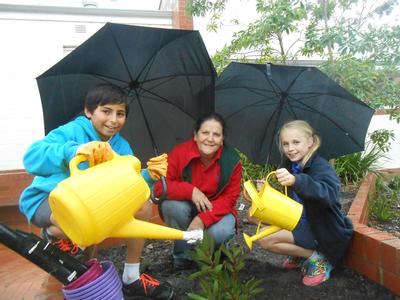 "The students from Freshwater Bay Primary School proved that a little bit of rain was no match for their green thumbs for Schools Tree Day 2015."
Despite torrential rain, students from Freshwater Bay Primary School and Bunnings Claremont were not deterred from getting into the garden and completing a huge native planting activity for Schools Tree Day 2015.
Students from Grades 5 and 6 at Freshwater Bay Primary learnt about the importance of native plants in the ecosystem as part of the science curriculum, so Planet Ark Schools Tree Day was the perfect opportunity for students to get hands on in the garden.
While they were there, Bunnings Claremont team members also helped the students to plant vegie seedlings in the pre-primary area and also to start a herb garden in the middle of the school courtyard.