City of Greater Bendigo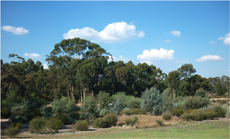 In 2006, 3000 trees and shrubs were planted at Lake Tom Thumb, Eaglehawk which are now thriving.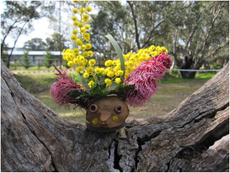 Clay sculpture created at the 2012 City of Greater Bendigo National Tree Day event
The City of Greater Bendigo supports many different environmental initiatives and is involved in small and large scale tree planting programs, including commercial forestry projects.
The City of Greater Bendigo has been involved in National Tree Day since its inception in 1996, always partnering with a community group to re-vegetate and improve a local park, waterway or bushland reserve. More than 76,000 native trees, shrubs and groundcovers have been planted as part of National Tree Day activities over this period and many environmental weeds have been removed in the process.
A variety of different groups have participated and partnered with the city including landcare, friends of groups, environmental organisations, various types businesses, rotary and lions clubs, scout and guide groups and progress associations, not to mention the great support from the general community.
The event always attracts interest and involvement from the wider Bendigo community and we have seen family participation increase each year. Families really enjoy and appreciate the opportunity to get involved and plant a tree and many people travel quite some distance to participate.
Over the years additional activities have been added to the event program, including art activities for children, music, displays, educational activities and a free barbecue. In 2012 children made beautiful clay sculptures from natural items found at the tree day site.

National Tree Day is an important part of our annual tree planting program and the City of Greater Bendigo will continue to work with our community to protect, enhance and improve our natural environment.
FAST FACTS
National Tree Day events since 1996 in Greater Bendigo have resulted in:
14 local parks, waterways and bushland reserves re-vegetated
42 community organizations have helped the city facilitate National Tree Day
2400 community members have participated
Over 76,000 native trees, shrubs and groundcover plants have been planted