Master Planters grow community
For John Parsons, National Tree Day meant much more than a chance to "rejuvenate and revegetate the forest for others to enjoy in years to come." It was also a way to put a smile on the faces of those who wanted to participate in Tree Day, but couldn't due to disabilities. Together with his wife Trudi, John established the Master Planters Environment Group with the help of Fraser Coast Regional Council, and got growing – community spirit, that is.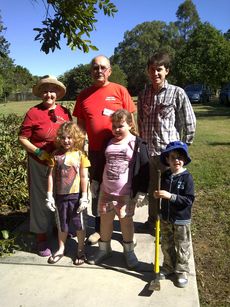 "Great interest was shown by the residents of the village…One of the ladies expressed the wish to participate on the day but was unable to do so. I suggested that when a volunteer would sign in to plant I would ask him/her to take the appropriate tag and plant the tree on the resident's behalf." Requests from other residents flooded in. "Of course I was pleased to fulfill their wishes. What a reward it was to see their happy faces when told that I could organize this for them." Over 30 volunteers helped plant over 300 trees, shrubs and grasses.

Two days after the planting however, disaster struck. "I was walking through the forest admiring all the newly planted trees and to my horror I noticed some of the name tags had been pulled off and some were torn into small pieces. A few days later when I again went for a walk I noticed a big area where trees were actually missing…It appeared about 40 trees had been pulled out of the ground. Extremely disappointed I went home to inform the police, two newspapers, Channel 7 and Fraser Coast Regional Council with the dreadful news." Undeterred, John turned the situation around to bring the community back together: "I thought in this situation the best thing was to stay positive and therefore arranged for another re-planting of the trees that had been destroyed. Two weeks later 20 volunteers came to help with planting of a further 50 trees which were supplied by the council. We also replaced name tags and put them on trees for the people who could not assist with planting. We all had morning tea and enjoyed the surroundings in our little forest."

For John and those living in his village, Tree Day was a perfect way to "meet up with people, make new friends or just have a good time." He is already thinking about a wetland and dry forest area to plant out for National Tree Day 2013.