Coordinators Profile Ben Boothby and Philip Cram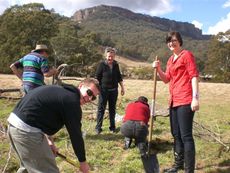 Since 2008, Wolgan Valley Resort and Spa has held National Tree Day events every year, with volunteers from the local community planting over 3,100 trees to date to help preserve Wolgan Valley's unique wildlife heritage. Trees planted at Wolgan Valley include local native species such as Black Cypress, Lemon Scented Tea trees, Casuarinas and Eucalyptus.
Names: Ben Boothby, Conservation Manager / Senior Field Guide, and Philip Cram, Facilities Manager
Organisation: Wolgan Valley Resort and Spa
What are the main benefits of Wolgan Valley Resort & Spa participating in National Tree Day?
Wolgan Valley Resort & Spa is Australia's first luxury conservation-based resort and the world's first internationally accredited carbon-neutral hotel. As such, initiatives such as National Tree Day that promote sustainability and environmental awareness are natural partnerships for Wolgan Valley. The opportunity to work with local community members on a cause that resonates with our ethos for sustainability is invaluable.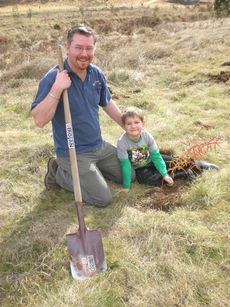 Wolgan Valley Resort & Spa is committed to restoring the former grazing property to a condition as close as possible to that existing at the time of pre-European settlement. Strategic revegetation of Box-Gum Grassy Woodlands, Riparian zones (Wolgan River and Carne Creek) & Wetland areas. This will then encourage the natural reintroduction of native flora and fauna to the area.
How do you usually promote or package your event to the local community?
Press release sent to local media.
What do participants seem to enjoy most about the day?
It's a great opportunity for families and couples to get outdoors and explore the Wolgan Valley, and the sheer beauty of the property. Our participants simply love immersing themselves in the bush and spotting wildlife throughout the day.
Are you planning to participate in National Tree Day 2012?
Yes. Wolgan Valley Resort & Spa will again participate in National Tree Day on Sunday the 29th of July 2012.