Coordinator Profile Brett McGennisken
Name: Brett McGennisken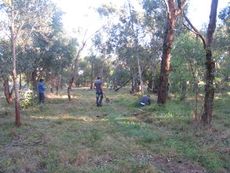 Council: Latrobe City Council
This was your first year participating in National Tree Day - why did you decide to get involved?
Because it was part of my role as Environmental Planner.
What did your council do for National Tree Day?
We conducted supplementary planting of understorey species within one of our Bushland Reserves.
What were the main benefits for your council of participating in National Tree Day?
It's a well supported event and it provides the framework for us to carry out planting to offset vehicle fleet emissions each year.
What was your biggest challenge in organising your National Tree Day event?
Obtaining plants of suitable origin/provenance at short notice.
What advice would you offer to others thinking about becoming a Tree Day Coordinator?
While there is a lot of organisation required, the day can be a lot of fun and it will give you something to look back on in 20 years and be proud of!
And just for fun, if you were given the seed of a 'money tree', where would you plant it?
Definitely at a little town called Seldom-Seen... and no I'm not going to tell you where that is!