Clarinda Lions Club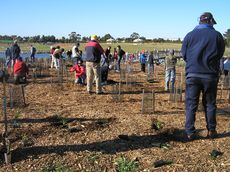 Once, a series of sandpits and a few gum trees was all that could be found between Karkarook Park and Braeside Park in south east Melbourne. Today, thanks to the efforts of Parks Victoria, Clarinda Lions Club and hundreds of volunteers, the site has been transformed and now features over 25,000 native trees and plants, serpentine wetlands, a lake and trails.
Every year for the past 11 years, Clarinda Lions Club has partnered with Parks Victoria to host a National Tree Day event at the parklands.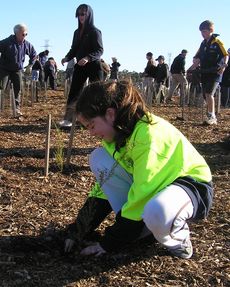 The event brings together around 200 volunteers, including other local Lions Clubs, Scouts and Guides groups, residents, and staff from local businesses. The hard workers are then treated to a Lions Club BBQ lunch.
David Oakley, Environmental Chairman of Clarinda Lions Club, said the event is getting bigger all the time.
"We promote it widely throughout the area and we get a really good response through Planet Ark's Tree Day website," said David. "It's a great day and everyone loves doing it."
David said he finds it very satisfying to see the results of the Club's efforts.
"It's great to go down to the site and see the areas you've worked on over the years," said David. "You feel proud of what you've done."