Coordinator Profile Julie Jackson
Name: Julie Jackson
Organisation: Boonah Organisation for a Sustainable Shire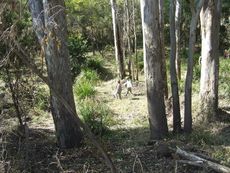 This was your first year participating in National Tree Day - why did you decide to get involved?
We had organised with the Scenic Rim Regional Council to set aside a piece of land in honour of one of our local environmentalists who had lost her battle with cancer. The space was named in her honour, and National Tree Day was a fitting day to officially open the reserve.
What did you do for National Tree Day?
We officially opened the Helen Houghton reserve with a community planting and naming ceremony with a morning tea.
What were the main benefits for your group or organisation of participating in National Tree Day?
Getting our community - young and old - together, planting loads of trees (about 200), and remembering Helen.
What was your biggest challenge in organising your National Tree Day event?
No major challenges - we had tremendous support from council, community groups and individuals. Our biggest challenge was providing enough hot water for tea and coffee for the hardworking hordes - that can be difficult without electricity !!
What advice would you offer to others thinking about becoming a Tree Day Coordinator?
Get out there and do it !! Plan well, engage your community, and you will have a great day, with results that keep on growing
And just for fun, if you were given the seed of a 'money tree', where would you plant it?
Naturally, at the Helen Houghton reserve.